In the depths of a small town Ontario winter there isn't much to do besides hike on the snowy trails, read, and watch movies. As an opinionated guy, who discovers hidden gems from time to time, thought I'd start posting some reviews.
movie:
Hell and High Water
(2016)
rating: all six rounds, pardner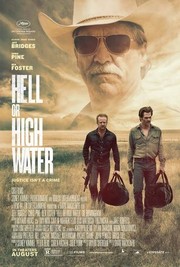 Been watching movies every coupla nights with Morley. Recently watched the first 2 '"Hunger Games" - better than expected. Also saw a lower budget film starring The Dude - a western/buddy/heist flick called "Hell and High Water". Loved it - usually find these 'small' films far more interesting than the blockbusters. The Coen Bros should have made this one - far better than 'Buster Scruggs".
Thanks Dr. J for reminding me to check out the reviews on the Rotten Tomatoes site- doing so inspired me to start my own movie postings. Often forget to check out the site for good ideas. I've been getting Morley to try to find "Shoplifters" for a month or more, but so far no luck. It rates 99% on RT. Good little mini-reviews as well on RT. One guy said "Hell or High Water" is for squares who don't get the Coen Bros. fxxk that - it's a lot smarter, more fun, "sensitive", faster paced and far more politikally aware than the last bunch of Coen flicks. Maybe the Cbros peaked in the 90s with The Dude and Fargo.
! ! ! !
Movie:
Sleeping Giant
Rating: Standing on the floorless lookout at Sleeping Giant park for 5 minutes without peeing yourself!
This
Canadian
flick was perhaps the movie I most enjoyed last winter.
I admit to a major weakness for coming of age films, and this is the perfect sequel to
Stand By Me,
with the lads a couple of years older. I heard about the movie when the director was interviewed on CBC radio's Q program. Apparently the two local cousins (and their real life grandma) were recruited through a Craigslist ad! Gotta love it - the non-pro locals are the best thing in the movie. Great scenery of course - I've explored the Sleeping Giant park near Thunder Bay the past two summers. The lads delight in the mindless joys of teen petty delinquency while learning the often ambiguous groundwork of adulthood. Reminds me of when around age 14 a friend and I 'borrowed' a beat-up construction truck and drove it around our neighbourhood, including our friends' front yards.