Central Hastings News * Thursday, August 7, 2014 page 5
Poetry by the dam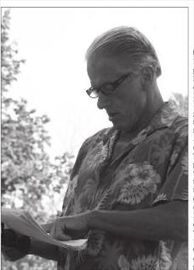 Poetry by the dam– Image 2
Judy Backus
The work of poet Jim Christy, of Corbyville, was featured during "Another Dam Poetry Reading," which included input from many of those gathered at the site where the background water music added to the ambience.
Central Hastings News
Canadian people's poetry was celebrated over the long weekend with the multi-faceted annual Purdy Country Literary Festival which was held at several Marmora venues. On August 2, all gathered at the library building for a symposium relating to Pauline Johnson and First Nations Art and History. As Chris Faiers, who organizes the events, said in promotional material, "This will be the eighth summer that poets will gather on the long August weekend in the greater Marmora area to share and celebrate. Many activities will take place at ZenRiver Gardens in the hamlet of Malone. Other events will be held in the Marmora Library building and on the Marmora dam ..." He went on to explain that "PurdyFest symposiums have been focusing on the life and legacies of Canada's major "People's Poets." To date these have examined the work of poets Al Purdy, Ted Plantos, Milton Acorn, Raymond Souster and Dorothy Livesay.
Faiers explained, "We are working our way back through Canadian history and this summer we'll examine and celebrate the life and legacy of Mohawk poet Pauline Johnson, who made her contributions a century ago." A Saturday afternoon symposium focusing on Johnson, included input from John Bacher who spoke on "Pauline Johnson: Pioneer Environmentalist".
The celebration began on Friday evening with a potluck supper at ZenGardens and continued throughout the weekend with the symposium
relating to Pauline Johnson and "another Dam Poetry Reading" held fittingly beside the dam where poets gathered to both listen and recite. That well-attended session began with a musical interlude presented by Morley Ellis which prefaced the round robin readings. The session doesn't usually include a featured reader, but this year an exception was made with Jim Christy, who was described by Faiers as being a poet/novelist/playwright/world traveller/raconteur, and Canadian icon, being invited to do an extended set.
Among his many well-received readings, was one titled "Doggone Poem" which included in part,
"This poem is not Licensed by the authorities. It likes To saunter along, going where it wishes, And watches the other poems in there Enclosures. Those can whine and preen Or growl and bark all they want, Knowing they're safe On that side of the fence."
The festival, which brings poets to town from both near and distant points, also included group readings during a Sunday session held at ZenGardens and hosted by Tai Grove of the Canada-Cuba Literary Alliance.
Apart from the poetry related events, Faiers had plans to accompany some of the visitors to points of interest within the area among them Greensides Farm and Callahan's Rapids Conservation Area.


~ ~ ~ ~ ~ ~ ~ ~ ~ ~ ~ ~ ~ ~ ~ ~ ~ ~ ~ ~ ~ ~ ~ ~ ~

On 2014-08-09, at 10:37 AM, Lindi Pierce wrote:

Oh well done Chris!
You must be so satisfied - and exhausted - now that everything is over, and went so well.
I was tied up doing interviews for an article, so didn't make plans with too-busy Michele to get up.
Next year?
hugs to you and Chase
Enjoy the rest of the summer
Lindi


. . . . . . . . . . . . . . .

Thanks, Lindi ; )
It was another successful fest, & all events were very well attended. But it's just become too much for me to be the primary organizer at age 66. The symposiums did a great job of covering the history of Canadian political "People's Poetry", and now that this historical analysis is pretty well complete after 8 years, it's time to end PurdyFests on an upbeat note.

Congrats to you & MIchele & all the other A-frame vols on the incredible work you do down there in A-burg. I see that Richard is doing another fund raising presentation of his Purdy play in the same location at the end of August. Will try to generate some publicity, & see if Chase & I can wobble down there.

peace & poetry power!
Chris ... & Chase Wrffffffffffffffffffffffff!


~ ~ ~ ~ ~ ~ ~ ~ ~ ~ ~ ~ ~ ~ ~ ~ ~ ~ ~ ~ ~ ~ ~ ~

On 2014-08-09, at 11:49 PM, Richard M. Grove wrote:

the end of an era – going out with a bang – good job

tai


. . . . . . . . . . . . . .

Thanks, Junebug ; )
Your Sunday afternoon hostings of Canada-Cuba Literary Alliance (CCLA) & Hidden Brook Press group readings at ZenRiver Gardens were a big part of PurdyFests. Too bad you didn't get the chance to do your 'mid-stream' reading - I'm still a little suspicious of just what your plans were for that!!!

Yes, thanks to all & sundry who showed up, read & sometimes listened, wandered by the Upper Moira, & maaaybe sneaked a sip or two of strong dark rum during the sunny afternoons!

peace & poetry power!
Chris ... & Chase wrfffffffffffffffffffffff!

~ ~ ~ ~ ~ ~ ~ ~ ~ ~ ~ ~ ~ ~ ~ ~ ~ ~ ~ ~ ~ ~ ~ ~