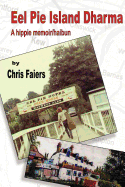 Eel Pie Island Dharma: a hippie memoir/haibun
, by Chris Faiers, Hidden Brook Press,
(wwwHiddenBrookPress.com), ISBN 978-1897475-92-8, 2012, 122 pp. perfect-bound, $17.95
They say that if you can remember the sixties, you weren't actually there. Fortunately, this isn't always the case. In his haibun memoir,
Eel Pie Island Dharma
, Chris Faiers recounts his adventures as a survivor of those infamous years. Hippies, junkies, bikers and school girls all traipsed through the derelict Eel Pie Island Hotel in the late sixties, and Faiers was among them. If you are one of those who lived through those years, this book will provide you with enough flashbacks to keep you going for quite a while. If you are too young, or too old, or too cautious to have experienced those days firsthand, this is your chance to find out what it was all about. The following is a sample:
A path led down a lane to the monastery and the temple beside it. The service consisted of all present sitting in meditation in the comfortable chapel for about a half hour to forty-five minutes. It was very
relaxing and the meditations were led by a monk who sat in front. The layout of the chapel wasn't dissimilar from a Christian service - with the notable difference that no words were spoken, no hymns sung. It was up to each of us to make our peace with the world.
Walking to meditation
through fresh snow
Yes, Virginia, there actually is an Eel Pie Island, and Chris Faiers was there. He even provides the photographs to prove it.
Marco Fraticelli
HAIKU CANADA REVIEW
Vol. 7 Number 2
October 2013
pages 53 - 54