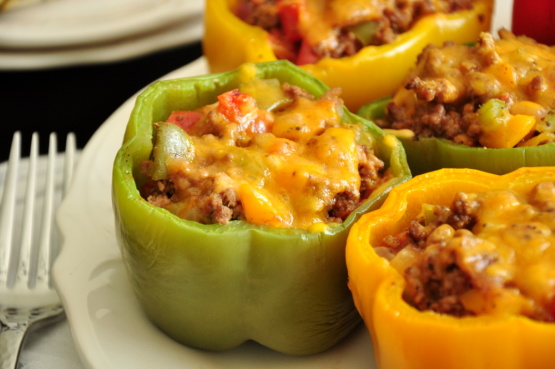 Hi Jim,
We'll have to compare stuffed green pepper recipes & the results sometime : )- My friend Sierra asked me to make them a few months ago, as I hadn't made stuffed peppers since my cooking days. So I gave it a try, & they were a great success with both of us.
I dug out an ancient cookbook of Sylvia's, which suggested parboiling the halved peppers before baking. I put them in a pot of boiling water for a few mins before I stuff them now. For the filling I use rice - basmati or jasmine preferred. I add a touch of curry powder to the boiling water for the rice to give an extra bit of flavour, also lots of butter pats (can't use too much butter when cooking!)
When I'm sauteeing the ingredients - the diced tops of the peppers, a bit of diced onion (find onion gives me indigestion now), lots of diced garlic cloves, some diced ginger root & shrooms. I deglaze the pan with some generous dashes of red wine - you also can't use enough red wine when cooking, something I learned at Georgie Brown.
As I'm semi-veg, there's no meat in my sauce, so I add half a bottle of 'Classico" spicy red pepper sauce to the sauteed veg & let it simmer, similar to making spaghetti sauce.
I mix the blended sauce & cooked rice together & stuff the slightly parboiled peppers, adding a nice topping of grated parmesan and/or cheddar, depending on my cheese larder. I bake at fairly medium temp for about 3/4 of an hour, maybe jacking up the heat briefly at the end to fully melt the cheese. Serve with several glasses of merlot or shiraz & Italian bread, preferably ciabatta lunga clusters.
Mmmmmmmmmmmmmmmmmm Goooooooood!!!
I made them yesterday, so this aft I'll cheat & just nuke one of the very large peppers.
On 2016-12-18, at 11:42 AM, jim christy wrote:
I forgot to mention that I too made stuff peppers. Three or four days ago but I steamed, father than baked them; weren't bad. Have you ever thought about writing something about your jobs?
Maybe even and industrial cooking haiku (or maybe not).