article in
Central Hastings News
Thursday, August 8, 2013
page 13
by Judy Backus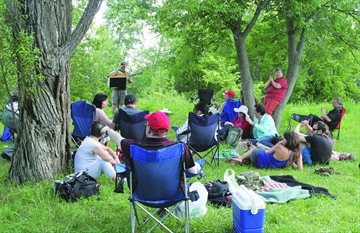 Purdyfest continues to attract poets
Aug 08, 2013
A two-daylong celebration of poetry took place in Marmora with the seventh annual and increasingly well attended Purdyfest. The weekend began with a Friday evening potluck held at Zen River, the home of local poet Chris Faiers.
A Saturday afternoon symposium, held at the William Shannon Room, provided insight on the work of Canadian poet Dorothy Livesay from a variety of perspectives. Presenters included visiting poets, Marsha Barber, Paulos Ioannou, Anna Yim and Terry Barker.
The traditional Saturday afternoon open reading by the dam site resulted in many of the more than 25 who arrived from as far away as Hamilton and Ottawa, gathering in the shaded area, one by one standing to read from their works. Prior to that, local musician and poet Morley Ellis provided a musical interlude, accompanying himself on his guitar, while the crowd enjoyed the tunes, with some singing along while they rested on the grassy knoll.
With the music playing in the background, Faiers, commented that the people's poetry movement seemed to be growing in Canada, mentioning that he had spent time
over the past two weeks in Ameliasburgh, initially helping to prepare the Al Purdy A frame which is going to become a writer in residence location. Of the project, he said, "This will be the first time in Ontario that we will have a [famous writer's] residence that has a writer in residence associated with it."
With regard to Purdyfest, he said, "There's a back and forth between us and the A frame and we support the fund raising ... It's just good that people's poetry, and poetry in general are getting more acceptance, and growing and becoming more recognized by the public."
~ ~ ~ ~ ~ ~ ~ ~ ~ ~ ~ ~ ~ ~ ~ ~ ~ ~ ~ ~ ~ ~ ~ ~ ~ ~ ~ ~ ~ ~ ~ ~
Aug. 17/13
Hi Chris, each and all,
It was good to meet with you again. What a wonderful feel there is around the dam and Zen river. thanks for making this happen.
It was fascinating to learn about Livesay. That poem Marsha was fab! I'll look for your book.
Thanks for the summary and haiku Chris and the copy of the copy of your write-up on Livesay, Paulo.
We already read aloud your book to each other, Ann B; it was wonderful! Simon and Melanie, what was the name of the puppet theatre? (I think I wrote it down but it's probably one of those illegible squiggles.)
I too took a few photos. I seem to have paid more attention to the dogfolk than I realized at the time. There's an album on Flickr here: http://www.flickr.com/photos/pearlpirie/sets/72157635064055432/
Brian hasn't gone thru his photos yet.
just back from the trip after,
Pearl
~ ~ ~ ~ ~ ~ ~ ~ ~ ~ ~ ~ ~ ~ ~ ~ ~ ~ ~ ~ ~ ~ ~ ~ ~ ~ ~ ~ ~ ~ ~